Program Overview
Rural communities across Georgia are sometimes unable to offer their students' high-quality STEAM (science, technology, engineering, arts, and mathematics) based programming during the summer. As we know, this is a critical time in every student's development as we see the negative effects of summer slide. In order to assist rural communities in Georgia, the Center for Education Integrating Science, Mathematics, and Computing (CEISMC) is seeking to empower rural communities through high-quality training sessions and supporting materials and kits within our lending library. Once trained, program facilitators will be able to offer a high-quality 5-day STEAM based summer program similar to what CEISMC offers at Georgia Tech's campuses in Atlanta and Savannah. Through our lending library, communities will be able to implement the camp at a highly reduced cost that is aligned with what the families they serve can afford.
2020 Program Information
Training Dates: TBD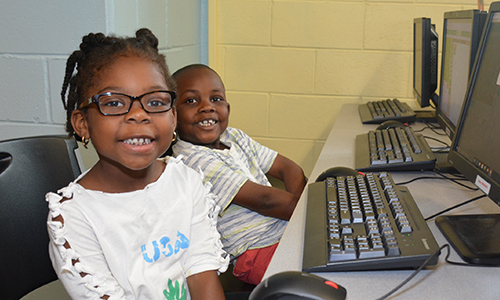 During our training, a team of 5 teachers will be led through intensive training to prepare them to facilitate a 5-day summer program targeted at rising 3rd through 8th graders. This training is designed to prepare them to teach on the following topics: robotics, computer coding, and scientific information related to the theme of the program (space, zoo animals, etc.). These topics reinforce the principles of STEAM and help to expose students to skills that are essential to a 21-Century workforce. All sessions will be offered at the Georgia Tech Savannah campus. This innovative program creates equity across all involved communities and eliminates the time-consuming process of trying to create high-quality STEAM programming on their own.
In addition to the above training, summer providers will have access to our lending library. This free resource will give access to project kits needed to implement their summer program. The lending library allows the programs to be implemented at a reduced cost to the providers. Without it, program providers would need to raise additional funds to purchase project kits and materials on their own. A class set (up to 20 students) from the lending library is available for up to 1-week during the summer to borrow. *Shipping charges may apply. The lending library does not include consumable materials such as batteries, craft materials, etc.
Program Audience
The training is targeted at rural communities in Southeast Georgia. We utilize the Governor's Office of Student Achievement high-need rural school districts map to qualify which communities meet these criteria. The map can be found here: Map Link. Communities not highlighted in blue on the map are not eligible to participate in this training without additional approvals by the CEISMC Savannah Campus Program Director.