Project Change: STEM Teachers @ Tech Day 2020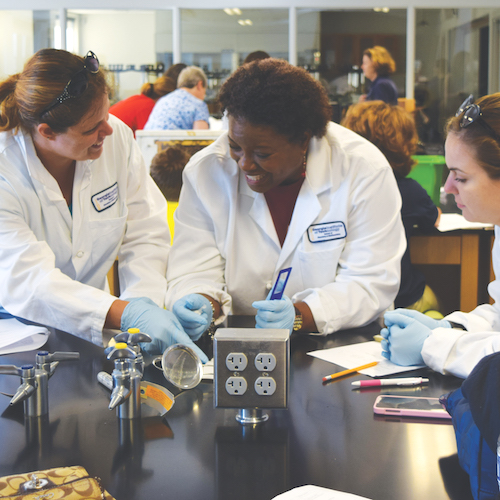 Are you looking for a way to move beyond the standards and integrate STEM connections into your curriculum? Science, technology, engineering or math (STEM) teachers have the challenge of engaging and preparing their students for post secondary education or the workforce, thus providing students with opportunities to experience real-world applications of the curriculum is more important than ever. Do you thirst for more knowledge to better connect and communicate to your class of future scientists, technologists, engineers, and mathematics?
This one day, on-campus experience is designed to provide High School and Middle School teachers with the opportunity to experience the cutting edge resources and research here at the Georgia Institute of Technology with the goal of increasing their understanding of current, real-world applications of their content. All participating teachers will be placed in small groups based on their respective content areas and engage in:
Activities with Georgia Tech research faculty;
Hands-on activities designed for replication in STEM classrooms;
And small group discussions with current Georgia Tech students focused on pre-requisite skills and concepts they learned in high school.
Our activities for the day will focus on the following specialty areas:
Physical, chemical, and mechanical

Life, earth, and environmental

Computer science and interactive computing

STEM with art integration

Mathematics
Date: March 10, 2020
Time: 9:00 am to 3:30 pm
Location: Georgia Tech Student Center and labs across GT campus
Cost: $150 (Includes - lunch, all activities for the day, campus parking, and if registered before February 10th all give-away items)
Registration Tips:
1. Make sure to create a new account if you have not signed up for Georgia Tech programming through Ideal-Logic before.
2. Registration is open until March 2, 2020.
3. Registration is not complete until payment has been received.
4. During registration, please choose one specialty area that best represents what you are currently teaching. If that section is full, you are more than welcome to choose another specialty area that you feel complements your content area.
If you have any questions, please reach out to us at stemteacher@gatech.edu.