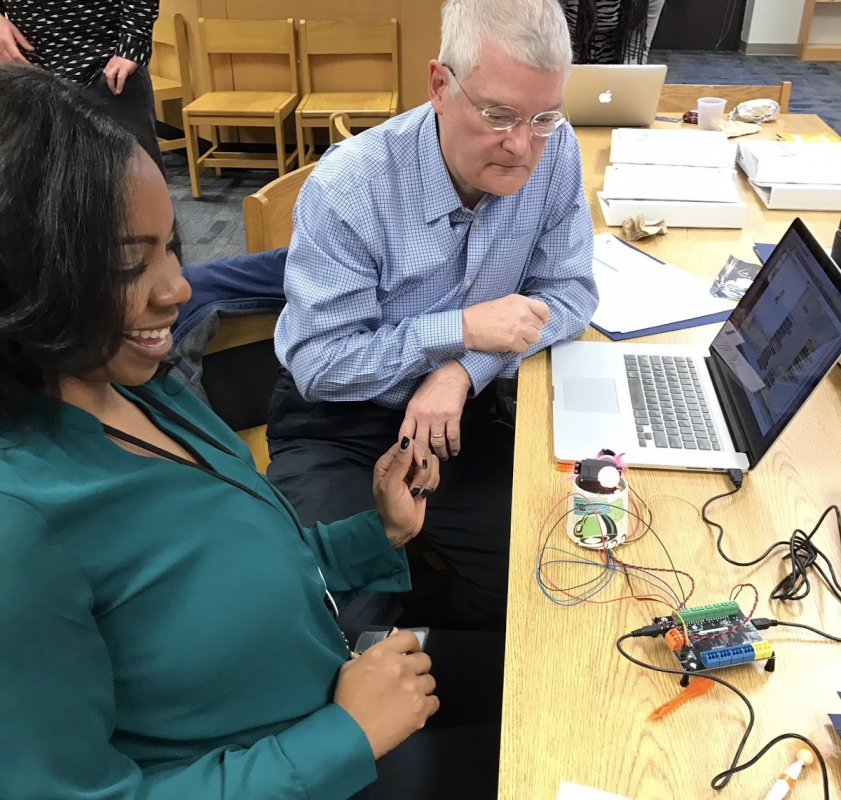 Sponsored by
Download Frequently Asked Questions
News: View Georgia Tech News Story
The STEM Teacher Leadership Program at Georgia Tech is an innovative software engineering and computing training program that brings advanced teaching techniques to middle and high school teachers in Metro Atlanta.
---
STEM TEACHER LEADERSHIP NEWS:

Honeywell® Student STEM Challenge Winners Announced!
The Challenge: Design a technology-based solution to a problem in your home, school or community that includes one of the following elements: robotics, the Internet of Things, human-computer interaction, or 3-D design and modeling. The solution you design should be a driver of social good.
Background: A social good is something that benefits the largest number of people in the largest possible way, such as clean air, clean water, healthcare, and literacy. Also known as "common good," social good can trace its history to Ancient Greece philosophers and implies a positive impact on individuals or society in general. It also provides the basis for charity or philanthropic work.

Today, social good is about getting people to engage in pro-social actions that benefit society, often by harnessing the power of technology and social media in particular. It is about engagement, shareability and bringing people together to change the world for the better. Gone are the days when governments, multinationals and large non-governmental organizations were the only institutions with the reach and resources to initiative change. Today, that change agent is YOU!
The winners:
| | | |
| --- | --- | --- |
| Project Name | School | Sponsoring Teacher |
| FireBot | Autrey Mill Middle School | Sharon McGee |
| Blind Sight | Autrey Mill Middle School | Sharon McGee |
| Seat Belt Dispenser | Coleman Middle School | LaShandia Hill |
| SAM | Coleman Middle School | LaShandia Hill |
| Care Kit | Hollis Innovation Academy | Nichole Jones |
| Delta Force Jacket | South Atlanta High School | Richard Fox, Jr. |
---
About the STEM Teacher Leadership Program at Georgia Tech
PROGRAM GOALS
Create a professional network of Metro Atlanta middle and high school teachers to serve as instructional leaders in computer science.
Strengthen computation aspects of STEM curricula and instruction in Atlanta-area public schools.
Enhance middle school student interest and achievement in STEM subjects and software engineering.
PROGRAM COMPONENTS
The STEM Teacher Leadership Program at Georgia Tech, which comprises four weeks of intensive summer training -- June 3 through 28 -- in software engineering and computing with 20 selected teachers. Teachers will have access to Georgia Tech's state-of-the-art computing research and Honeywell engineers, who will serve as mentors and coaches.
The Honeywell STEM Challenge, a software engineering competition open to students in computer science courses taught by STEM Teacher Leadership Program teachers (current or alumni).
The STEM Teacher Leadership Program Symposium, an annual academic conference and networking event where alumni and other teachers and leaders from Metro Atlanta can attend additional academic and networking activities at Georgia Tech.
Schools that are pursuing STEM certification with support from superintendents and district level leaders will be eligible for selection.
SELECTION CRITERIA
Selected teachers will have strong superintendent and principal recommendations, a demonstrated ability to implement innovative instructional practices, and possess the skills and willingness to serve as STEM ambassadors.