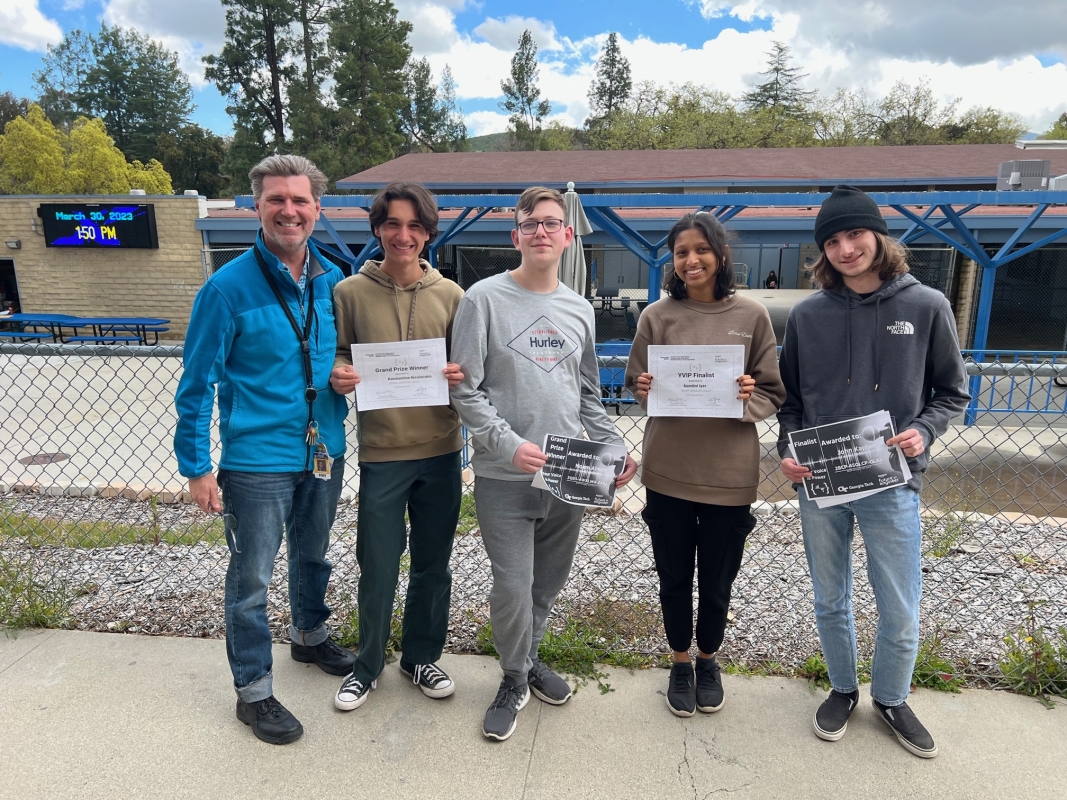 "Your Voice is Power" student winners and finalists from Agoura High School in Agoura Hills, California, celebrate with teacher Joseph Keays.
April 24, 2023 - Atlanta, GA
Twenty aspiring music hitmakers — all middle and high school students from across the United States and the territory of Guam — have been selected as winners of the Fall 2022 "Your Voice is Power" (YVIP) remix competition, in which students examine themes of racial equity and entrepreneurship through music while learning computer science coding.
YVIP was launched in 2020 through a partnership between the Georgia Institute of Technology, Amazon Future Engineer, and YELLOW, a non-profit established by record producer and artist Pharrell Williams to even the odds through education. Since that time, more than 3,500 pre-collegiate students have participated in the program which focuses on expanding computer science education to more students from underserved communities and groups that are currently underrepresented in tech.
"'Your Voice is Power' is an innovative, multidisciplinary learning experience for students that examines how computer science, music, and entrepreneurship can be pathways to social justice," said Roxanne Moore, project lead for YVIP and senior research engineer at Tech's Center for Education Integrating Science, Mathematics, and Computing (CEISMC). "It's a rare combination of tools—music, writing, and coding—that students can use to voice their perspectives and tell their stories."
In addition to the remix competition, YVIP includes a curriculum with five teaching modules with lesson plans that teach coding and music, and kick-start meaningful conversations among students and their teachers about the importance of social justice.
Approximately 600 students participated in this year's competition, submitting their remixes with reflections on their songs' messages about equity. The students — who included almost 200 first-time coders — used Georgia Tech's learn-to-code-through-music remixing platform, EarSketch, a web-based digital audio workstation that uses Python or JavaScript to compose music. The platform was developed at Tech in 2011 by co-creators Jason Freeman, chair of the School of Music, and Brian Magerko, professor of digital media in the School of Literature, Media, and Communication.
"EarSketch engages students in computer sciences through connecting to their musical passions. They are having fun composing beats and adding effects to their tracks all while learning how to code," said Sabrina Grossman, CEISMC program director and YVIP curriculum developer. "'Your Voice is Power' amplifies this engagement in computer science and empowers the students to see computing as a way to promote social good."
Grand prize remixer Emily Garcia of Chicago reflected on her submission that finding common ground among different perspectives is key. "Through my song, I'm trying to show that we are all the same. We bleed the same blood. We breathe the same air," she explained. "Different skin tones should not define us, should not divide us. We are better together, and I hope to inspire not only young Hispanic girls, but people of all backgrounds, ages, and beliefs."
Finalist Clarisse Martin of Palm Beach, Florida found her inspiration by digging deep into the concept of equality. "My song represents equity by giving each instrument its own chance to be heard," she said. "Each instrument contributes its part to a song, and I think that's what makes music beautiful. Sometimes it's not just about equality in songs. It's about equity."
The entries were judged by a panel of Amazon engineers, Amazon Music team members, computer scientists, academics, and music industry professionals on music, message, and coding competency. Each of the 10 grand prize-winning students were awarded a $500 Amazon gift card, while 10 additional students received $250 Amazon gift cards as finalists. The students are from schools in Arizona, California, Florida, Georgia, Illinois, New York, and Yigo, Guam.
The grand prize winners are:
Xavier S. Martin from Global Impact Academy in Fairburn, Georgia
Katherine Walling from Lane Tech College Prep High School in Chicago, Illinois
Noam Almog from Agoura High School in Agoura Hills, California
Konstantine Nicolacakis from Agoura High School in Agoura Hills, California
Gisele Habibulla from Archbishop Molloy High School in Briarwood, New York
Vince Lohnes from Lane Tech College Prep High School in Chicago, Illinois
Emily Garcia from Lane Tech College Prep High School in Chicago, Illinois
Mariela Hernandez from James A. Foshay Learning Center in Los Angeles, California
Ayden Polecastro from Jones College Prep in Chicago, Illinois
Manuel Aguirre from Lakeside High School in Lake Elsinore, California
The finalists are:
Nandini Iyer from Agoura High School in Agoura Hills, California

John Kaplan from Agoura High School in Agoura Hills, California

Mikalea Samonte from Lane Tech College Prep High School in Chicago, Illinois

Clarisse Martin from Palm Beach Gardens Community High School in Palm Beach, Florida

Dagim Tibebeselassie, Kamron Dunnah, and Nani London from Tucker High School in Tucker, Georgia
Ricardo Martinez from Westview High School in Avondale, Arizona
Dominic Labuguen from Ocean Grove High School in Brisbane, California
Francis Brazas from Jones College Prep in Chicago, Illinois
Glen Taisipic from Simon A. Sanchez High School in Yigo, Guam
Cristiano Castellanos and Henoke Berhanu from James A. Foshay Learning Center in Los Angeles, California
For additional details about all the winners, please visit: https://www.teachers.earsketch.org/results
If interested in implementing the Your Voice is Power curriculum or using EarSketch in your classroom, please visit: https://www.teachers.earsketch.org/yvip-curriculum
—Randy Trammell, CEISMC Communications