December 22, 2022 | Atlanta, GA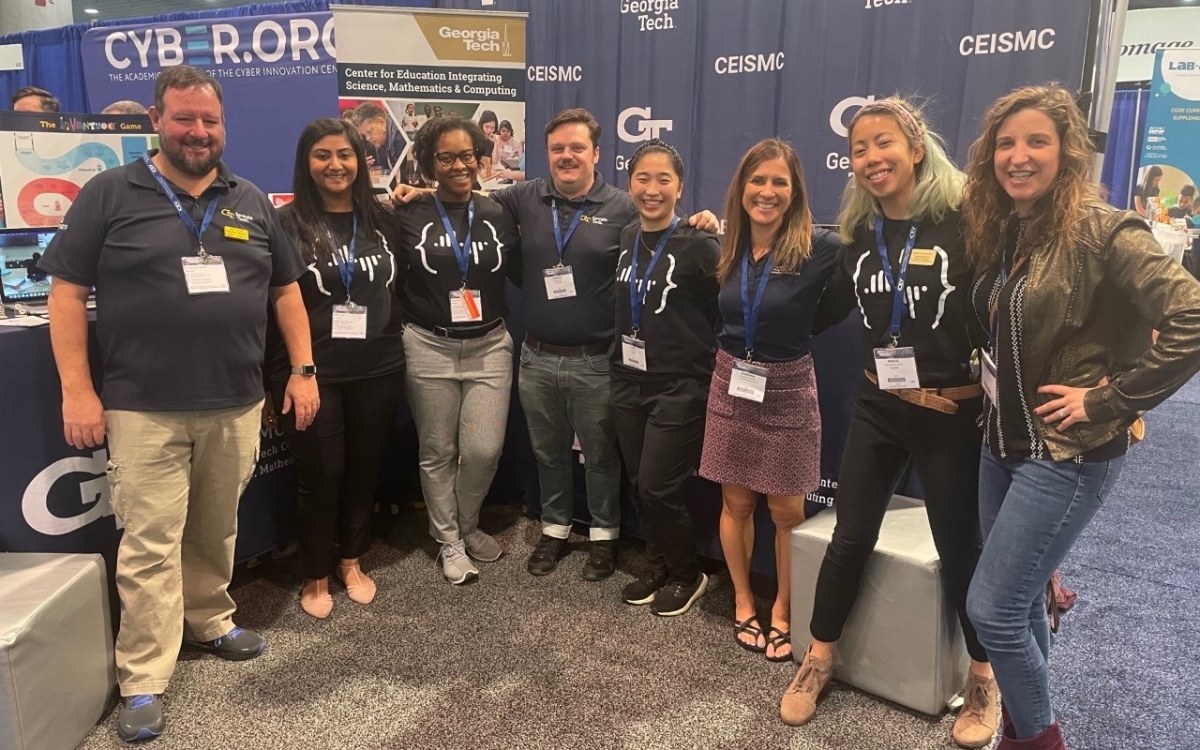 A group of faculty and staff from the Georgia Institute of Technology's Center for Education Integrating Science, Mathematics, and Computing (CEISMC) recently attended the annual conference of the Association for Career & Technical Education (ACTE) as presenters and exhibitors. CareerTech Vision, which was held November 30-December 3, 2022 in Las Vegas, attracted more than 4,000 secondary and postsecondary career and technical educators, business leaders, and industry professionals from around the world.
"The ACTE conference was an invaluable opportunity to showcase CEISMC projects spanning engineering, computer science, and inventive thinking to educators, administrators, CTE leaders, and educational technology companies," said Roxanne Moore, senior research engineer in CEISMC and the G.W. Woodruff School of Mechanical Engineering. "Georgia Tech is truly an innovative leader in this space in their diversity of offerings and their accessibility for K-12 audiences nationally and internationally."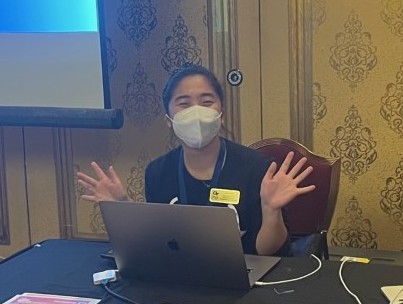 Web Developer Love Park fulfilled many roles at the conference, including as one of the exhibitors for the K-12 InVenture Prize, an invention and entrepreneurship competition that challenges students to identify real-world problems and design novel solutions through analysis, creativity, and the scientific method. More than 15,000 students and 750 teachers have participated in the program since its inception in 2013, which was developed by Senior Research Engineer Roxanne Moore with the assistance of two high school teachers.
"Exhibiting and presenting at ACTE was a rewarding experience to connect with career and technical education professionals and expand the reach for our programs at CEISMC," she said. "ACTE provided an opportunity to hear from educators, administrators, and other education professionals about their needs and what they are seeking in programs and curriculum to implement with their students. This input challenges us to consider how we can include others' needs to what we have while also sharing what we do offer!"
"Your Voice is Power" / EarSketch
Program Director Sabrina Grossman and Educational Outreach Manager Danyelle Larkin were among those who delivered a presentation entitled "Your Voice is Power: Make Beats. Learn Code. Promote Equity." The goal of this educational initiative, which includes a remix competition and related project-based curriculum, is to encourage more K-12 students from diverse populations to enter the world of computer science.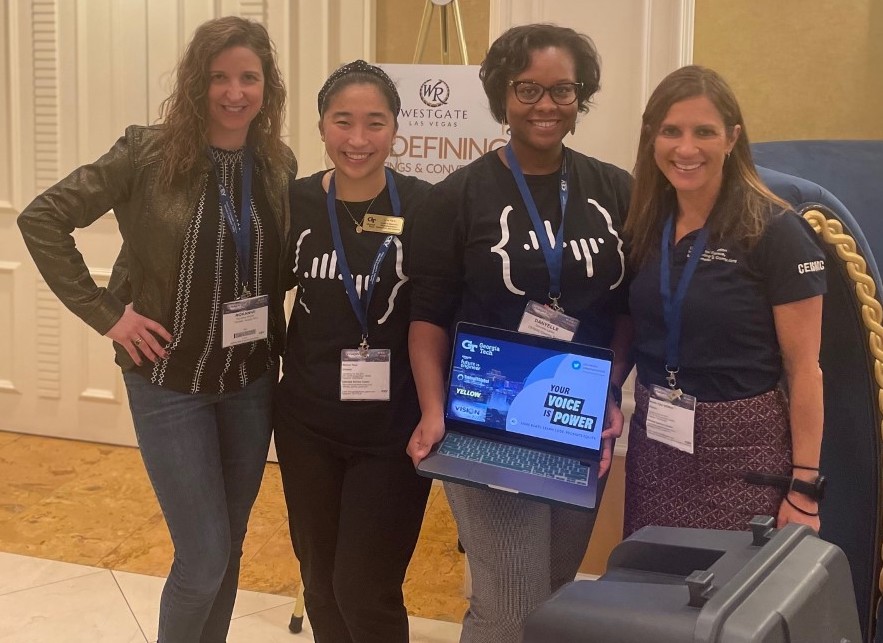 "Overall, it was a fantastic experience for CEISMC - an opportunity to share our work across a national audience and broaden our reach for programs that are ready for dissemination," said Grossman. "ACTE was a great venue for EarSketch as it allowed us to reach high school computer science and technology teachers who could implement the programming immediately in their classroom."
More than 3,000 pre-collegiate students have been learning code, making beats, and promoting equity through the "Your Voice is Power" (YVIP) national remix competition since its launch in 2020 through a partnership between the Georgia Institute of Technology,  Amazon Future Engineer, and Pharrell Williams' non-profit YELLOW. Students use EarSketch, a web-based digital audio workstation developed at Tech in 2011 that uses Python or JavaScript to compose music.
"The ability to share curricula and outreach here at Georgia Tech in CEISMC is always well received by educators," added Larkin. "Educators often mention EarSketch, and curricula such as YVIP will provide their students with a creative channel to interact with music and coding."
STEM Innovation and Engineering Design (STEM-ID)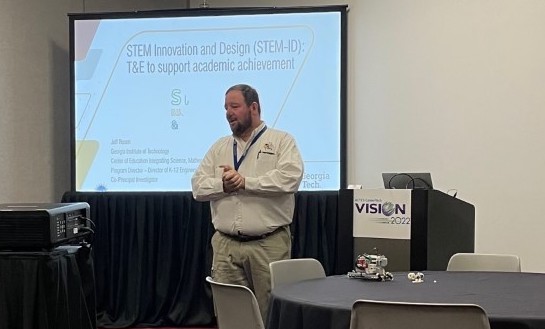 Program Director Jeff Rosen delivered a presentation about STEM-ID course materials, which was first implemented in Griffin, Georgia through AMP-IT-UP, a seven-year National Science Foundation (NSF) grant (Award #1238089).
"STEM-ID is a one semester integrated STEM course that meets the engineering and technology standards for grades 6-8 and integrates math and science content and practice and entrepreneurship through application during design challenges," he explained.
With AMP-IT-UP outcomes demonstrating that the STEM-ID courses significantly improved math and science achievement, a new impact study to attempt to replicate results on a larger scale was warranted. This new $2.7 million STEM-ID grant (Award #2101441), which was awarded to CEISMC by NSF in 2021, will involve up to 30 middle schools.
STEAM Innovation Facilitators Ed Gnatiuk and Jed Paz stayed busy at the conference talking with attendees about the various CEISMC initiatives, including the Student-Centered Computing (SCC) curriculum that aims to diversify the computer science field. Students develop digital technology and programming skills as they research and design solutions for problems of their choice.
"It was really satisfying having people from across the country show interest in the work that we're doing, especially when they expressed excitement in work that I've had a direct hand in at CEISMC," said Paz. "This was my first real experience both traveling for work and representing CEISMC at an event of this size, and I'm very glad that I was given this opportunity."
Through an NSF grant (Award #1639946), CEISMC researchers created an introductory high school computer course under the umbrella of the SCC framework that is specifically designed to promote inclusivity through a student-centered pedagogical approach and a year-long project. Since initial success during a pilot of the course implemented by schools in Fulton and Gwinnett schools in 2017-2019, two middle school courses have been created, and the team is recently developing an SCC version of the Advanced Placement Computer Science Principles Course.
"Our programs are designed to be relevant and engaging to the schools and students, by allowing for voice and choice within their projects. This helps student engagement because students can make projects relevant to them," explained Gnatiuk.
--Joëlle Walls, CEISMC Communications