Please click on the links below for more information.
K-12 Students
Questions: summerpeaks@gatech.edu
Summer Programs in Savannah
Questions: gtsoutreach@gatech.edu
BOOST Scholarships available for on-campus, in-person camps in Atlanta and Savannah.
Atlanta- https://expandedlearning.ceismc.gatech.edu/scholarship
Savannah - https://ceismc.gatech.edu/savannah/summer-scholarship-information
K-12 Teachers
Code.org Regional Partner Teacher Professional Development Opportunities
Questions: teachcode@ceismc.gatech.edu
Student-Centered Computing Teacher Professional Development Learning Institute
Questions: SCC@gatech.edu
GoSTEAM Summer Symposium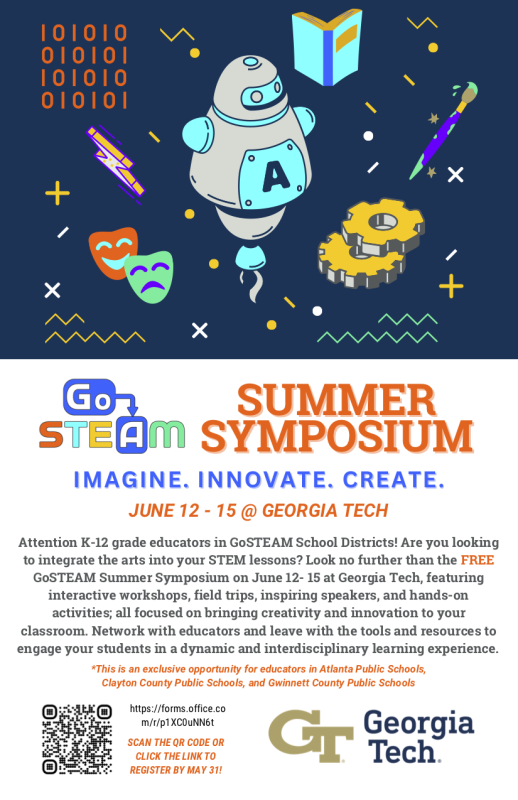 Join the GoSTEAM project at Georgia Tech for a week (June 12th-15th) of interactive workshops, inspiring speakers, and hands-on activities, all focused on bringing creativity and innovation to your classroom. Network with educators and leave with the tools and resources you need to engage your students in a dynamic and interdisciplinary learning experience. The symposium is free and open to teachers from Atlanta, Gwinnett County, and Clayton County public schools. Register here: https://bit.ly/GTSTEAMSYMP
Questions: rwarren40@gatech.edu
Biologically Inspired Design for Engineering Education Workshop
Questions: jrosen3@gatech.edu
K-12 InVenture Prize Trainings
June 21-22: Certified Teacher Training - Georgia Tech, Atlanta campus
September 16: Certified Teacher Training - Georgia Tech, Savannah campus
Innovation and Entrepreneurship for Educators Workshop
July 17-20: Southern Regional Technical College, Thomasville
Email k12inventure@gatech.edu for more information on any of the workshops.
Frugal Science Academy (in partnership with Center for Global Health Innovation and K-12 InVenture Prize)
Questions: jstandeven9@gatech.edu