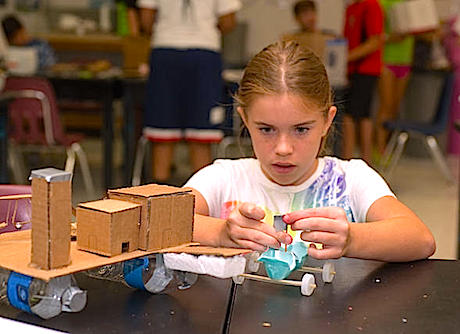 2016 GEORGIA TECH SAVANNAH SUMMER CAMPS
ARE FULL PLEASE CHECK BACK NEXT SPRING
From educational partnerships and research to fun programs for students, CEISMC advocates and participates in efforts for systemic changes that lead to improved appreciation and performance in STEM for all students at the level of K-12, especially those under-represented in Science, Technology, Engineering, and Mathematics. With a presence at Georgia Tech – Savannah, CEISMC brings their expertise to the people and schools of southeast Georgia.
K-12: HOW TO GROW ENGINEERS AND SCIENTISTS
A fast-growing specialty of Georgia Tech-Savannah is its series of programs supporting interest and progress in STEM fields: science, technology, engineering, and math. On campus, and in the community, Georgia Tech's Savannah campus attracts students, teachers, and others to the fun and challenge of STEM-related activities.
Activities include our partnership with Girl Scouts of Historic Georgia, Elementary Science Olympiad regional affiliate competition, Full STEAM Ahead! Summer Camps, STEM Day celebrations, teacher professional development, and much more!
Visit our Frequently Asked Questions