We will continue to offer both virtual and in-person programs in summer 2022. Both virtual programs (STEAM Whistle Workshops) and in-person programs will run June 6th - July 22nd. While subject to change, our current COVID-19 policies and procedures are listed below under FAQs and will be emailed to all registered participants the week prior to the program start date.
Click here for Virtual Program Description and Registration Links
On-Campus Summer Programs Overview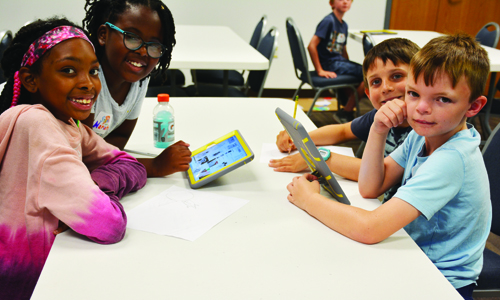 Every week-long program is uniquely themed to provide a full summer of STEM/STEAM fun and learning for everyone. Additionally, all programs now include a meaningful take-home component so that participants can continue to expand their STEM/STEAM knowledge long after the week is over!
See all the descriptions for programs listed below. All programs will be located at the Georgia Tech Savannah Campus. Each day will run from 8:30 AM - 3:00 PM and all parents/guardians will be invited to a student showcase on Friday starting around 1:30 PM.
At this time, students will need to bring a non-perishable lunch each day, but we are working to provide lunch at least one day a week for each program. More information will be available shortly.
All Program Age Groups
You will see below that some programs are available for multiple age groups. For these programs, all projects and activities will be modified so that they are grade-level appropriate. Additionally, in all programs students will be grouped according to the following grade bands:
Rising 3rd - 5th graders
Rising 6th - 8th graders
Rising 9th - 12th graders
Program Cost
Scholarships
Scholarship applications will be available starting March 1st. Please see the following page for more information:
Scholarship Information
2022 Program Descriptions