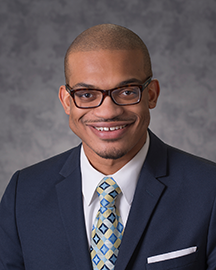 Education Outreach Coordinator
404-894-0777
About
Will Jimerson serves as the Education Outreach Coordinator for AMP-IT-UP (Advanced Manufacturing & Prototyping Integrated to Unlock Potential) program within the Center for Education Integrating Science Mathematics and Computing (CEISMC). Will is responsible for assisting and supporting the coordination of program-related events and activities that promote academic achievement as well as enhance the educational experience and opportunities in STEM education.
Prior to joining CEISMC, Will served as an Admissions Counselor for Valdosta State University. While in college, Will was a highly involved student in several student organizations such as Alpha Phi Alpha Fraternity, Inc., Student Government Association, and several honors societies. Additionally, he served as a Resident Assistant and Student Government Association President.

Will received a Bachelors of Business Administration in International Business from Valdosta State University in 2014. While employed at Georgia Instititute of Technology, Will plans to continue pursuing higher education. In his spare time, Will enjoys traveling, singing, watching football, reading motivational books, and spending time with family and friends.