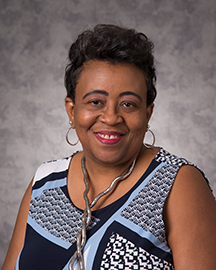 Financial Administrator III
404-894-9876
About
Valarie Burnette is a Financial Admin II in CESIMC . I've been with CEISMC since 2006. My jobs consist of processing payroll, stipend payment, travel reimbursements, P-card processing and resolving financial issues. I work with various Program Managers and Directors assisting them with Workshops or Programs. I've been employed with Georgia Tech since 1994 and have been in several departments prior to coming to CEISMC. I've worked in Procurement as a Buyer's Assistant, Electrical Engineering as a Senior Accountant Assistant. I was promoted during my time there to Senior Admin. Secretary, working with the Dept. Chair as well as continuing my Accounting responsibilities. In 2003 I took a position in the Chemistry Dept as an Accountant I, after doing that job for a year I was promoted to an Accountant II. While in that position I did the work of an Accountant II and I assisted all Accountant III with their duties.
In 2010 I enrolled at Ashford University taking on line classes and finishing my degree in Organizational Management.
I'm the mother of two and the proud grandmother of one.