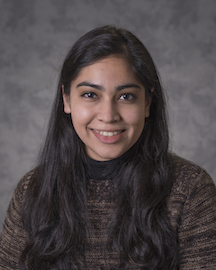 Communications Assistant
404-894-0777
About
Sabiha works with the communications team to develop and edit web content, keeping her audience in the know of various activities and functions hosted by CEISMC.
Outside of CEISMC, Sabiha is a fourth year graduate student at the School of Chemistry and Biochemistry at Georgia Tech working under Dr. Christine Payne. Her research focuses on titanium dioxide nanoparticle interactions with cellular environments.
Sabiha received her B.S. in Chemistry and B.S.E. in Chemical Engineering from The University of Alabama in Huntsville in 2012.